Pearson Education is the world's leading education company, providing print and digital learning materials and services used by more than 100 million students of all ages every year. Our business serves educators and their students in three worldwide sectors: School, Higher education and Professional.
School
Over the past five years, we have become the world's leading school company. We built our business around our customers - teachers, schools and administrators - and their mission to make a lasting impact on learning for each and every child.

To do that, we have invested in vivid, research-based instructional content, rigorous assessment, pertinent data about students and powerful technology. Put together, these resources enable teachers to measure and pinpoint their students' learning needs, and to teach each child in his own way, at his own pace.
That approach puts us in the sweet spot of several trends in school education, which helped us to a record year in 2005 (our School sales were up 16% to almost £1.3bn and profits 29% higher at £147m). In the US, our largest market, the federal government is focusing attention and investment on several areas where we lead the field: testing, reading instruction, student information and the professional development of teachers. In the UK, we are helping to modernise school testing, marking millions of examinations on-screen and making the process faster, more secure and more informative for students, parents and teachers.

Above: The British Council estimates that, within 10-15 years, two billion people will be learning English. Pearson is the world's leading publisher for students of English as a second language, and in the past two years we have invested in major new international programmes for elementary, secondary, adult and business markets. English Adventure, our award-winning course for children aged 3-12, combines the educational pedigree of Pearson Longman with the enchanting power of Disney characters that children know and love. We have launched local versions across the globe and the programme will ultimately be sold in more than 50 countries.
Disney material © 2004 Disney Enterprises, Inc. Pearson produces the English Adventure product pursuant to a license agreement with Disney publishing.
In many other markets around the world, demand is growing for materials to improve reading and maths skills and to help students learn English as a second language.
Looking ahead, these trends in school education and the strengths in these very areas built into our business give us plenty of scope for long-term growth. We think our school business will continue its growth in sales and profits as it helps teachers teach and students learn.



Higher education
Pearson is the worldwide leader in publishing, technology and related services for college and university students. Our higher education business - the world's largest, with £779m in sales in 2005 - has grown faster than its industry for each of the past seven years.
The foundation of this business is its content: across almost all academic disciplines, we publish some of the world's most renowned thinkers and authors, including Kotler in marketing, Campbell in biology and Hubbard in economics. We work very closely with our authors, typically over many years, to ensure their teaching materials meet the learning needs and styles of today's students.
Higher education publishing has been a very predictable growth market, with industry sales increasing every year for the past two decades. In the US, our largest market, student enrolments have been increasing steadily - from 14 million in 1995 to 17 million in 2005 - and are projected to continue to grow, reaching 19 million by the end of this decade.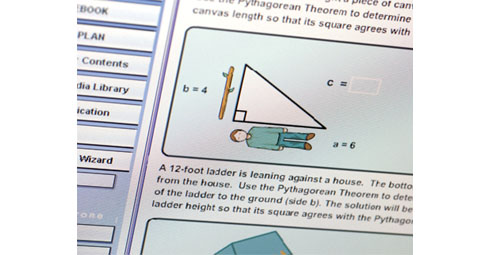 Above: Technology is changing the way that teachers teach and students learn. In US Higher Education, Pearson has pioneered a series of online learning resources such as MyMathLab. The system allows college maths students to practice problems and submit assignments online, and the software intervenes and provides assistance if the student is struggling. Last year students submitted 11 million assignments online through this programme, and colleges using the system are reporting significant increases in student pass rates.
Yet behind this picture of consistent growth also lies one of the most dynamic and innovative segments of the media and publishing industries. We have grown and prospered because of our unique combination of industry-leading innovation and worldwide scale. Three strategies in particular are setting Pearson apart from competitors and helping us to grow faster than the market:

Technology We combine print textbooks with web-based services. Over 3.6 million college students in America use one of our online services which enable them to explore content, do their homework, take practice tests, receive instant feedback and connect with their professors. These services are growing rapidly, helping students to improve their performance.
Customisation We offer educators the chance to create textbooks and digital resources built around their own courses, blending content from our books, their own course materials and many other sources. This business has grown its sales by more than 25% for each of the past five years.
International expansion Many of our higher education textbooks are seasoned travellers. Kotler's Principles of Marketing, for instance, has been printed in 23 languages. We are also now taking our online programmes and custom publishing capabilities and making them available in international markets.


Those advantages helped Pearson's higher education business to a record year in 2005, with sales up 5% and profits up 19% to £156m. With strong competitive advantages and healthy markets, we believe this business is well set for continued, steady growth in the years ahead.
Professional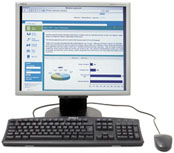 Peter Drucker, the world-famous management thinker, once wrote: "The growth industry of the future in the world will soon be the continuing education of adults... the educated person of the future is somebody who realises the need to continue to learn."
If he was right, our professional education business, which provides a range of content and services for adult learners, has good prospects. It has three major parts.
Professional testing and certification We are a world leader in assessing and certifying people to practice in their chosen profession. This year some 3.5 million people - including nurses, dentists, lawyers, securities dealers and business school applicants as well as local real estate and insurance agents - will take a test in one of our 400 centres worldwide. This business is growing very fast indeed - up more than 30% in each of the past two years - as we benefit from a series of large contract wins and our leadership in computer-based testing.
Technology publishing We are the world's leading publisher of books about technology, from the basics of using a PC, an iPod or a video game through to detailed technical manuals for software engineers. For the past five years, this market has been in decline, reflecting the overall trend of the IT industries. We have been moving our business more toward digital publishing and at the same time maintained our healthy margins and market share, and we now begin to see improved market conditions ahead of us.
Government Solutions We provide a range of services to connect citizens to government services. Our largest customer is the US Department of Education for whom we manage college students' applications for federal financial support. This business has the advantage of very reliable, predictable revenue streams because it is based on multi-year contracts with governments: in 2005 alone it won more than $1bn of new business for the future, some of it under contract as far ahead as 2015.